Category:
Interesting Fact
Hey! Are you looking for an Interesting Fact about the world or General Knowledge? So Here a collection of all types of fact and Current Awareness.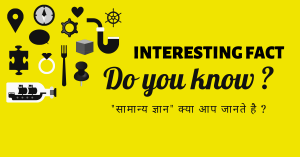 Friends, there are many mysterious things in the world which are always present. There are interesting facts about the world. In this present moment, a person is breaking old records with his discoveries and greatness. Due to which current awareness and general knowledge are changing every moment.
Through this category, we will read all those Interesting fact and current awareness.
दोस्तों दुनिया में ऐसे बहुत सी रहस्यमयी चीजे है जो हमेशा से उपस्थित है|जिनके बारे में दुनिया में रोचक तथ्य फैला हुआ है|इस वर्तमान क्षण में व्यक्ति अपने नए नए खोज और महेनत से पुराने रिकॉर्ड को तोड़ रहा है| जिससे कर्रेंट अवेयरनेस और जनरल नॉलेज हर पल बदल रहा है|
इस केटेगरी के माध्यम से हम उन सभी Interesting Fact और साथ में कर्रेंट अवेयरनेस को पढेंगे|
It seems we can't find what you're looking for. Perhaps searching can help.